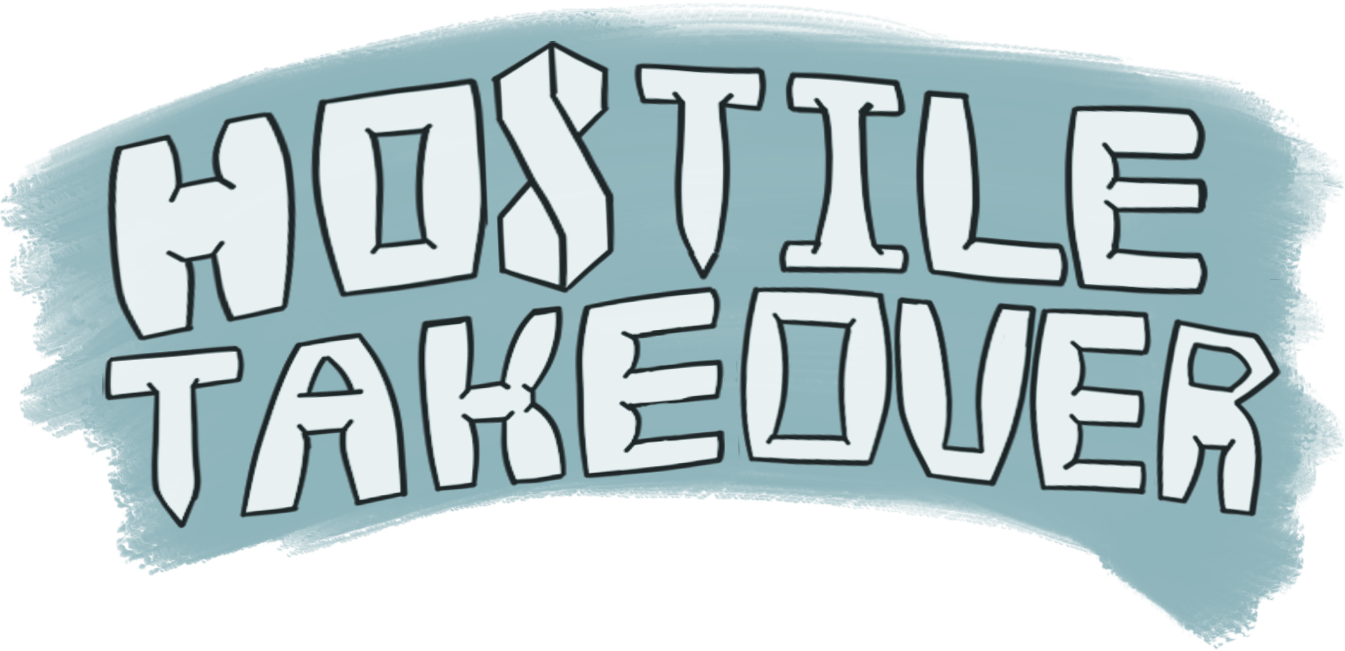 Hostile Takeover
A downloadable Board Game
Hostile Takeover is a basic territory control war game. You and your friends must fight to take control of the fortifications in order to establish yourselves as the true leader of the city. There are a total of four groups vying for control and none of them are ready to back down. From their base of operations, they send out their units in attempt to acquire each facility. No one is infallible though and if a group loses all three of their units, they're out. In this war, there will only be one victor; do you have what you need to defend against a Hostile Takeover?

Hostile Takeover is a spin on Piecepack. The additions are 12-sided dice and some blocks for buildings. If you already have a piecepack, it'll help you save some time on getting setup. No two games play out exactly the same either, since the maps are player generated every session. It's up to you how you play and where you deploy, but one thing is for sure, you don't know who will win.

=================================================================
Hostile Takeover: هي لعبة حرب تقوم على السيطرة على الممتلكات. حيث يجب أن تقاتل أصدقاءك للسيطرة على الحصون من أجل ترسيخ أنفسكم كقادة حقيقيين للمدينة. تشمل اللعبة أربع مجموعات تتنافس من أجل السيطرة ولا أحد منهم مستعد للتراجع. يرسلون وحداتهم من قاعدة عملياتهم في محاولة للاستحواذ على جميع المنشآت. لا أحد معصوم من الخطأ على الرغم من ذلك، وإذا خسرت المجموعة كل وحداتها الثلاث، فستخرج من اللعبة. في هذه الحرب لن يكون هناك سوى منتصر واحد. هل لديك ما تحتاجه للدفاع عن ممتلكاتك؟

إنَّ Hostile Takeover هي نسخة قائمة على نمط Piecepack. تشمل الإضافات نرداً بـ 12 وجهاً وبعض الكتل التي تمثل المباني. إذا كان لديك لعبة Piecepack بالفعل، فستساعدك على توفير بعض الوقت في الإعداد. ستحظى بتجربة جديدة في كل مرة تلعب بها، نظراً لأن الخرائط يتم إنشاؤها بواسطة اللاعبين في كل مرة. الأمر متروك لك لاختيار الطريقة التي تلعب بها ومكان نشر قواتك، ومن المؤكد أنَّ لا أحد يعرف من سيفوز.
=================================================================
Hostile Takeover არის ტერიტორიის კონტროლის საომარი თამაში. თქვენ და თქვენს მეგობრებს მოგიწევთ ბრძოლა სიმაგრეებზე კონტროლის აღებისთვის, რათა დაამყაროთ თავი ქალაქის ნამდვილ ლიდერად. სულ ოთხი ჯგუფი იბრძვის კონტროლის აღებისთვის და არც ერთი არ არის მზად უკან დახევისთვის. საოპერაციო ბაზიდან ისინი აგზავნიან თავიანთ ქვედანაყოფებს, რათა დაეუფლონ ყველა ობიექტს.თუმცა, უშეცდომო არავინაა და თუ ჯგუფი დაკარგავს სამივე ქვედანაყოფს, ისინი ეთიშებიან თამაშს. ამ ომში მხოლოდ ერთი გამარჯვებული იქნება; გაქვთ ის, რაც გჭირდებათ მტერის დაპყრობისგან თავის დასაცავად?
Hostile Takeover არის Piecepack თამაშის ახალი ვერსია. დამატებულია 12 გვერდიანი კამათელი და რამდენიმე სამშენებლო ბლოკი. თუ უკვე გაქვთ piecepack-ი, ეს დაგეხმარებათ დაზოგოთ დრო განლაგებისას. ასევე, არ არსებობს ორი ერთნაერი თამაში, რადგან რუქები იქმნება მოთამაშეების მიერ ყოველ სესიაზე. თქვენ გადაწყვიტეთ როგორ ითამაშებთ და სად განლაგდებით, მაგრამ ერთი რამ ცხადია, თქვენ არ იცით ვინ გაიმარჯვებს.
🕕 30-45
♙3-4

| | |
| --- | --- |
| Status | Released |
| Category | Physical game |
| Release date | Sep 28, 2021 |
| Rating | |
| Author | avarisclari |
| Genre | Strategy |
| Tags | 5e, Board Game, boardgame, City Builder, four-player, Multiplayer, skirmish, territory-control, three-player |
| Asset license | Creative Commons Attribution v4.0 International |
| Average session | About a half-hour |
| Languages | Arabic, English, Georgian |
| Links | Steam |
Purchase
In order to download this Board Game you must purchase it at or above the minimum price of $15 USD. You will get access to the following files:
Print and Play Pieces
83 kB
Hostile Takeover Double Sided Printer Friendly
1 MB
العربية Hostile Takeover
22 MB
Hostile Takeover ქართული
22 MB
Hostile Takeover MultiLingual
68 MB
Hostile Takeover English
22 MB
Exclusive content
Support this Board Game at or above a special price point to receive something exclusive.
Community Copies
For every 20 dollars we make selling a copy of Hostile Takeover, there'll be a community copy.

Download demo
Comments
Log in with itch.io to leave a comment.
If anyone is interested, I made a little unboxing video showing what the physical game comes with.
How many players does this game support? What is the average game time?
It's 3-4 players and is about 30-45 minutes for a game. The fastest game I've seen was 20 minutes but that was by experienced players. Thank you for your question as well, I have now added that information to the game description at the bottom.